Veritas Partner Resource Centre
Here you'll find direct links to useful resources designed to help you sell Veritas solutions. All the Partner Resources kits in the Go to Market section are available in 6 European languages, just click to download.
1
Understand the opportunity
Download the Veritas Market Opportunity Guide and Veritas Strategy and Solution Matrix to get up to speed with the latest market trends and business opportunities. Gain valuable insight into the total addressable market for each solution area across your region both today, and projected into the future. This will enable you to plan what to sell and where your business will win with Veritas.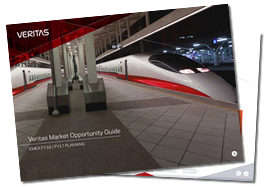 Veritas Market Opportunity Guide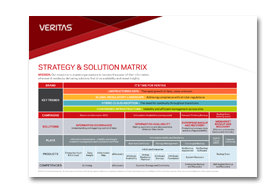 Veritas Strategy and Solution Matrix
2
Go to market
Once you know where you should be focusing your efforts, use our Partner Resource Kits to see how you can go to market. Gain an in-depth overview of the opportunity, the solution, marketing materials and sales tools available to help you drive new business. Available in a number of languages:
---
Start now with these simple steps:
3
Keep up to date
Stay informed on the latest product updates, promotions, customer offers, training and more from Veritas. Download Veritas Connect to your mobile device so you can always have the latest news at your fingertips.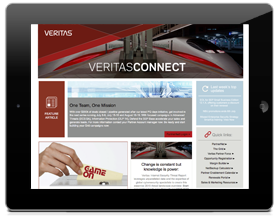 Veritas Connect
4
Maximise your revenue
Be rewarded for all your sales efforts with:

Up to 20% discount on qualifying deals registered in Margin Builder. It's quick and easy, no login required.
Margin Builder

Up front rebate for registering opportunities on qualifying deals in the Opportunity Registration Rebate (ORR) Program.
ORR
5
Useful Resources
Here are the most important resources to support you in building your business with Veritas.
Events / Training